VagaBob Travel

Trieste, Italy: The underestimated capital city of the Friuli-Venezia Giulia autonomous border region of Northeast Italy.
Its culturally diverse history has contributed an eclectic structure and atmosphere, which, while offering less in the way of landmark attractions, allows for a more culturally immersive,  authentic and relaxing experience than the overcrowded and excessively commercialized tourist meccas in the vicinity.
Well worthy of a route diversion—and several day visit—at the very least.  Easy approx. 2 hour public transport connections to Venice & Ljubljana.
Trieste offers a manageable number of interesting sights and attractions—along with some truly unexpected gems–More than enough to be relaxedly enjoyed during a several day visit—Some examples being;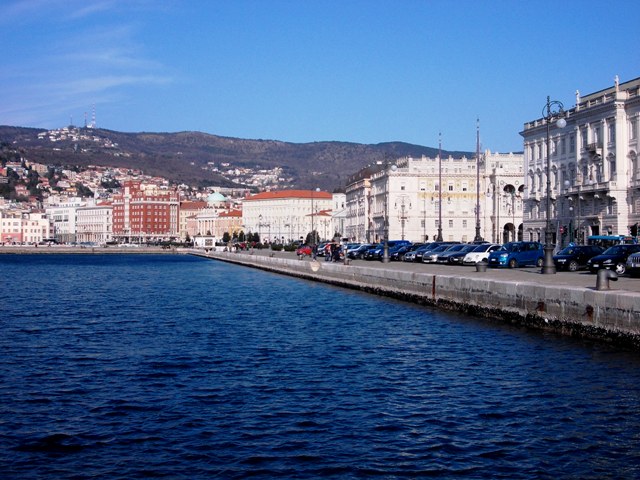 Trieste city seafront – Piazza Unita d'Italia on the right
From Roman, Medieval, Baroque to Neoclassical architecture ~
And of course, bustling restaurants & cafés of writers and poets ~
______________________________
Need a frugal place to stay while in Trieste?
Here's an ideally located and nicely profiled budget lodging recommendation in Trieste; Hotel Nuovo Albergo Centro
(Tell them "VagaBob sent you")
____________________________
Whilst in Trieste—would also strongly recommend a visit to the "overwhelmingly picturesque" Slovenian seaside town of Piran….a mere hop, skip and jump away
(about a 1 to 1½ hour bus ride via Koper)
Looking for a place to stay in Piran ?
Here's a couple good lodging recommendations – both located within the relatively small old town—and excellent values
(yes—-of course….tell them "VagaBob sent you!)

Dec.5,2015 - VagaBob

®Photos property of VagaBob Travel