Challenging as it is to limit any such listing — consider this an updated compilation of some of my favorite places in Europe.
"Places" being represented by differing geographic scales — from specific sites, towns & cities to entire regions & countries — as apropos to my reasoning…
                                     [ listing order is entirely random ]         
~ Comments, as always, welcomed.    VagaBob

♦ ♦ ♦ ♦ ♦ ♦ ♦ ♦ ♦ ♦
Montenegro (entire country)
This small jewel of a country offers up extraordinary scenic beauty, punctuated by ancient stone towns & villages. Quite literally, "..the most beautiful merging of land and sea…"

Bulgaria (most of)


Offers the full serving of authentic culture, diverse & scenic topography and unrivaled depth of history. The definitive culturally-immersive experience. A top favorite!

Dolomite Alps/South Tyrol – Northern Italy
An idyllic blend of jagged alpine peaks and picturesque rolling meadows, forests and villages. Great hut-to-hut alpine hiking possibilities. UNESCO World Heritage listed.

Southern Bohemia – Czech Republic

The self-proclaimed "pearl of the Czech Republic" boasts enchanting towns (most notably Český Krumlov pictured) and picturesque natural landscapes—many UNESCO listed.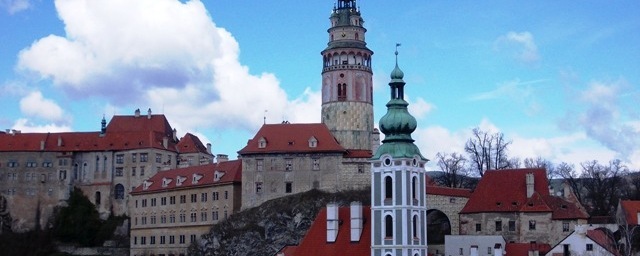 Transylvanian Region –Romania


Referred to as the land "beyond the forest" in an early medieval document, Transylvania is the epitome of cultural immersion—steeped in scenic beauty and history. Multiple UNESCO sites.

Bavaria – Germany


Storybook castles, picturesque Alps, quaint towns, picture-perfect countryside and a Maß of beer are only the beginning of the Bavarian experience. A veritable hiker's paradise.

Albania (entire country)
An absolute jewel of a less-discovered and less-touristy culturally-immersive country. Majestic mountains to spectacular coastlines await the mildly intrepid
traveler.

Bruges, Belgium


Canals, cobbled streets, beautiful green spaces and medieval buildings comprise the entirety of the authentically-intact and sizeable historic center. A must see and experience UNESCO location.

Prague, Czech Republic



The "Heart of Europe" is the an appropriate nickname for this grand & mostly authentically-intact city. A plethora of things to enjoy & explore–worthy of a minimum one week stay.

Lisbon, Portugal


Distinctive atmosphere, charm, great food and nightlife. Offers a great blend of the old with the new, both structurally and culturally. Being San Francisco's "sister city" is more than a moniker.

Slovenia (another entire country)


"Europe in a nutshell" best describes this beautiful & diverse country. Experience the mighty Alps to the pristine Adriatic coast within a 3 hour journey. Ljubljana=an idyllic little Euro-Capital City.


Mont Saint-Michel – Normandy – France



An iconic & imposing site to behold. One of the most distinctive and authentic medieval places in Europe. Witness one of the world's greatest tidal changes. An early…and worthy UNESCO site.

Tuscany – Italy


Picturesque landscapes, delectable cuisine and a glut of artistic & cultural history. With Florence as a convenient base for explorations, more than suitable for an entire (lengthy) vacation.

Plitvice Lakes National Park – Croatia



Another spectacular UNESCO World Heritage listed natural site, where 16 crystalline lakes tumble into each other via a series of waterfalls and cascades. An indescribably beautiful experience.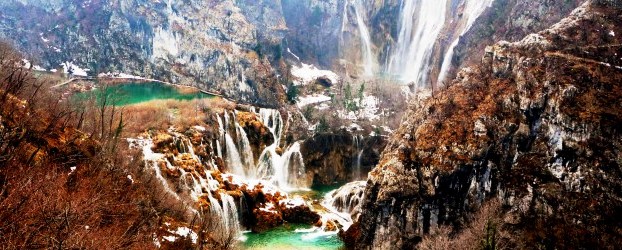 Amsterdam; the Netherlands



Yes, another popular favorite — but worthy of its accolades. Vibrant and laid-back at the same time. Renowned for its artistic heritage, elaborate canal system and narrow houses with gabled facades.

The Baltic States: Estonia, Latvia & Lithuania
Difficult to choose a particular favorite in this surprisingly
diverse and beautiful region(albeit given a slight 'soft spot' for Lithuania)

Lauterbrunnen Valley–Bernese Oberland– Switzerland


A dramatically deep trough alpine valley surrounded by the mighty massifs of the Eiger,

Mönch

and Jungfrau Mountains—along with spectacular (up to 300 meter) series of waterfalls. UNESCO.

The Cinque Terre – Italy



Meaning "the five lands", the Cinque Terre is a necklace of five villages, precipitously-perched along the dramatic & rugged "Italian Riviera" coastline. Added perk = mostly inaccessible via car.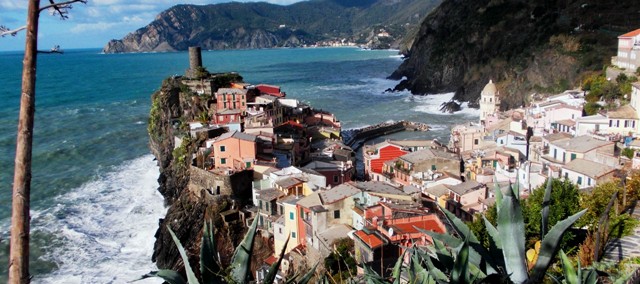 Andalusia Region – Spain



Offers a cornucopia of traveler delights. A relatively mild Mediterranean climate along with blended legacies of cultural influences reign over incredible natural & man-made splendors.

North Rhine-Westphalia (state) – Germany



A German State with multiple distinct cultural differences, vibrant cities and breathtaking natural areas, surrounded by inviting towns & villages. A nucleus of arts and sciences.

Croatia – coastal



From the "blue" Istrian resorts to the Southern Dalmatian "Pearl of the Adriatic"- Dubrovnik, the beautiful & dramatic Croatian coastline is worthy of an extended destination unto itself.

Krakow, Poland



Along with Prague, another grand city which escaped significant damage during WWII. Boasts a relatively compact old town with one of the most spectacular market squares in Europe. UNESCO.

Meteora – Greece



Literally meaning "suspended in the air" — with (6 out of 24 surviving) Greek Orthodox monasteries spectacularly perched atop precipitous rocky pinnacles. The definitive awe-inspiring setting.

Yes…..of course…VagaBob Travel offers trip itineraries to all of these incredible places!

♦ ♦ ♦ ♦ ♦ ♦ ♦
"Once a year, go someplace you've never been before" – Dalai Lama